Biography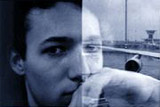 Sound designer, mixer and sound artist Jeremiah Moore is known for his sensitive and listening-centered approach to sound production. His work has appeared in documentary films Miracle In A Box, Key of G, feature film Cherish, theater productions Merchant of Auschwitz (Denver Drama Critics Circle award for best sound design), permanent museum exhibits Prehistoric Journey at the Denver Museum of Nature and Science, the Detention Barracks at the Angel Island Immigration Station Museum, and various art gallery installations. He has collaborated with filmmakers John Korty, Ellen Bruno, and Felicia Lowe, artist Su-Chen Hung, jazz trumpeter Derek Banach, and radio producers The Kitchen Sisters. He has created sound design for many commercial clients such as Nike, Microsoft, Toyota, Palm, AMD, SEGA, Levis, Universal Pictures Home Entertainment, and Disney. He currently serves as co-chair of Bay Area Sound Ecology (BASE), organizing BASEbot listening salons, public soundwalks and other projects in the San Francisco Bay Area. BASE is the Bay Area chapter of the World Forum on Acoustic Ecology (WFAE).
As an artist, he has produced works exploring human perceptions of time, examining the interface of humans, nature, and technology, engaging the beauty in the everyday, and transforming commercial culture into meaningless bliss.
In his previous life as a sound engineer in Denver, he did sound effects for an Eminem/Xzibit single, got a good drum sound for Slayer, listened intently with Wyclef and recorded interviews with Cheryl Crow. He is a bona-fide Filemaker Pro and soundfile metadata geek, sometime source of musics organic, mechanized and landscape-like, and occasional organizer of pixels. He enjoys storytelling.
He can be seen around town with headphones on, carrying a sound recorder, doing weird things with a microphone. He lives in San Francisco with his family including two kids who, like him, never sleep.
reel | news | credits | philosophy | bio | links | contact | main
email: ear{ at }jeremiahmoore.com tel: (+1)415.577.0045